By: Anne Ziegenhorn
April 24, 2013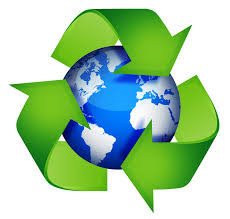 Matrix combines a variety of conservation efforts in our goal to be environmentally responsible. Currently, our company-wide recycling program includes:  plastic beverage bottles & food containers; glass bottles & jars; metal cans; paper, including newspapers, magazines, office scrap, junk mail and cardboard boxes.
Designated bins have been set up in multiple locations for the collection of these items, making it easy for all employees to participate.  The recyclables are deposited into a separate recycling dumpster provided by Groot Industries, our waste management contractor.  Adopting this simple system has allowed us to reduce a significant amount of our waste by diverting it for recycling. Our "waste not" mindset even carries over to the used coffee grounds which a few employees take home on their own to use in their garden compost.
We also address the recycling and/or proper disposal of materials that are not included in our general curbside program.  Electronics including printers, cartridges, desktops, monitors, battery backups and cell phones are collected.  Every 6 to 12 months, arrangements are made with an electronics recycling company that donates any usable items to Chicago Public Schools.
With respect to our manufacturing waste stream, we contract with Safety-Kleen, a leading re-refiner, to recycle our cutting and lubricating fluids.  While plastic re-grind can be used in specified amounts on select projects, excess scrap plastics and metals are sold for use by other manufacturing facilities when possible.
In addition to diverting waste, we are always looking for new ways to conserve our resources upfront.  Paper consumption is reduced in the office by electronic billing and storage of documents, and electronic data models nearly eliminate prints in the shop.   Our company news updates and most of our training records have also gone paperless. In recent years, we have replaced energy inefficient metal halide lighting with high output T-5 HO fluorescent lighting.  This has resulted in better quality lighting with lower energy usage and longer bulb life.  Other energy saving lighting upgrades continue. Carpooling has also increased with several employees riding to and from work together on various days of the week, reducing both fuel consumption and auto emissions.
Put simply, Matrix is committed to a daily awareness of our impact on the environment and our continual efforts to reduce it.  New ideas for how to improve in this area are always considered.  The smaller footprint we leave, the better.